There are many ways you can help the Recreation Ministry at Redland. You do not need to be athletic to help. We just need warm friendly faces and helping hands.
Please click on the Sign-Up Genius button to explore how you can serve.
We need people to come support Adult Drop In Basketball on Monday nights from 8-10, Open Gym Volleyball on Tuesday nights from 7-9, and Rumpus @ the ROC on Thursday mornings from 10-12:30. We are also looking for Upward and CBA Coaches!
Click the link below to help out: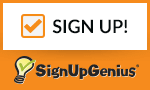 Potential Upward Coaches (required paperwo
rk):
Permission to Obtain Background Check (Rev. 05-2018)
RBC Child Protection Policy with Signature 2018
RBC Volunteer and Paid Staff Application (Rev. 05-2018)
RBC Volunteer Reference Form (Rev. 05-2018)
Register for Coach Training: